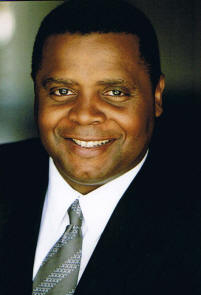 From Nancy Wilson (Vino Jazz Festival) to Barbara Morrison (Pips) to Oleta Adams and Poncho Sanchez (Barclay Theater), Jay Jackson has performed in shows with some of the biggest names in jazz.  But no matter whom he's singing with, his soulful, rich jazz voice is unique and special. Jay trained at the prestigious LoDuca Brothers Music Academy in Milwaukee, Wisconsin.  Performing in venues such as The Vino Jazz Festival, NOLA's, Red, White and Bluezz, and the Hollywood Studio Bar and Grille, Jay is becoming a familiar treat for LA jazz fans.
Jay Jackson is also an award-winning journalist and actor who is regularly seen on the hit NBC comedy Parks and Recreation, and has appeared on national television shows, such as The Oprah Winfrey Show, Dexter, The Mentalist, The Closer, and CBS News.  Jay is also seen in the blockbusters Battleship and Fast Five.
Interviewed by Kaylene Peoples
Responses by Jay Jackson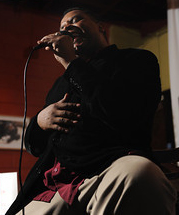 Jay, we met years ago when you were on assignment for KCAL News. I discovered back then that you were a jazz aficiondo, jazz lover, and jazz entertainer. I saw you perform in Culver City once and enjoyed your performance very much. I would coin it "music for lovers." Jay, you are a classic crooner. Tell me about your journey to jazz. How did you get started, and what and who were your inspirations?
Well, I took piano lessons from the time I was 8 years old to 14 years old and became quite the little classical player. In high school I was deep into musical theater. I love the music until this day. The funny thing is that I hated the sound of jazz as a child. My father played it all of the time and I just couldn't stand it. But in college, I worked as a security guard and had to sit in a crappy little car watching a dirt lot. The car radio could pick up just one station, the jazz station. So night after night, hour after hour, I just started loving the songs and music. I loved when Johnny Mathis or Lou Rawls would sing. Miles Davis's ballads were the best because they really can take you away from the world you're in, if just for a few moments.